The Optovue RTVue is an ultra-high speed, high resolution optical coherence tomography (OCT) retina scanner used for retina imaging and analysis.
It is based on the next generation Fourier-Domain Optical Coherence technology just emerging from clinical research in the last two years.
The ultra-high speed and high resolution features enable the FD-OCT to visualize the retinal tissue with ultra-high clarity in a fraction of seconds. myopic patients.
Tracking is available now for the Optovue RTVue SD-OCT.
Comprehensive Glaucoma Analysis with 3 in 1 registered scan
Complete Disk/Rim/Cup Analylsis
RNFL Map
RNFL thickness at 3.45 mm diameter
Disk/Rim/Cup & RNFL thickness map
AIG Study scan protocol
Evaluate disk and cup shape and symmetry
Calculate all stereo-metrics parameters e.g. rim volume, cup volume, C/D, etc.
RNFL thickness map
~20,000 data points in 0.35 seconds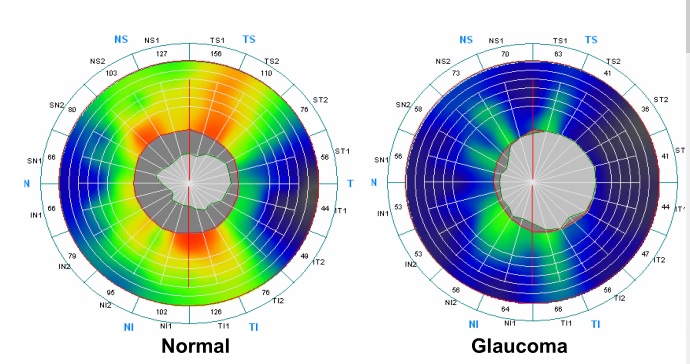 Retinal Thickness Map – 7 mm x 7 mm
Evaluation of ganglion cell loss with full retina or inner retina thickness map
Asymmetry assessment of superior and inferior hemispheres from thickness differential map – full or inner retina
RNFL thickness at 3.45mm diameter around disk
Progressive and asymmetry analysis
High repeatability with average data from 4 consecutive high density scans
Examine Retina with multiple Views
Multiple map views of Pathology:
Full retinal & Inner retinal thickness maps
ILM & RPE elevation maps
Visualize fine detail beneath the map
Quantify the height and size of lesions
High quality near IR fundus image allows visualization of sub-surface lesions
Unprecedented image resolution and clarity in two perspective views registered on fundus image
Visualize Pathology in 3D
Quantitative progressive comparison after treatment
Total Corneal Power
The Total Corneal Power Upgrade is the first FDA cleared SD-OCT based cornea power measurements which directly measures both the anterior and posterior curvatures rather than assuming an anterior/posterior relationship.
This methodology, coupled with 5 micron resolution SD-OCT technology, allows evaluation of post refractive patients with increased confidence.